Looking for cards? Live in or visiting Seaton in Devon? Come take a browse at our selection!
Posted on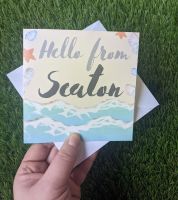 If you are looking for unusual and interesting cards then you really need to come visit us at 30 Queen Street in Seaton, Devon where we offer a wide range of greetings cards suitable for a variety of occasions. We have everything from birthday cards, valentines cards, childrens cards and arty cards. Alongside the arty cards we also stock photography cards, many featuring areas of Seaton and Devon such as the seafront and the harbour. We also stock a beautiful range of floral photography cards too.
If you can't get to us in Seaton, You can also order the cards here on our website.
If you struggle to choose a card why not select one of the surprise bundle packs, you'll get a randomly selected mix of cards.