Do you like gardening? Interested in learning more about growing your own food?
Posted on
If you have been in store recently then you'll likely have seen the seedlings and plants for sale, this is something we do throughout the year but you may have noticed recently we have quite a few more than usual available.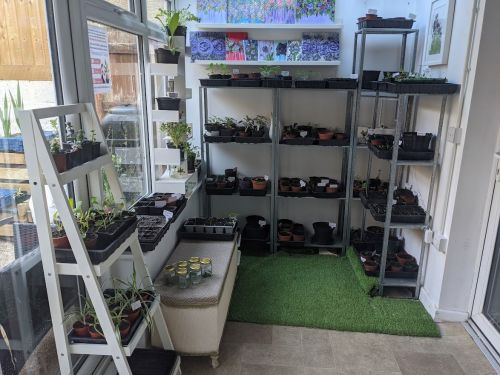 Kerri-Ann has been busy starting seeds in the conservatory studio where you can see what is growing and what is ready to purchase. She has also set up a new Youtube channel to share her gardening and growing food journey you'll find her online as Tomatoes & Tulips or use the following links:

www.tomatoesandtulips.co.uk - Blog

Tomatoes & Tulips Youtube channel here

Instagram & Tiktok you'll find her as Tomatoes & Tulips

Kerri-Ann is learning how to become as self sufficient as possible growing her own food, preserving food, collecting rain water and making compost. Do follow her on Youtube and her blog to follow along her journey and if you have any questions please do let us know.

Also if you'd like us to run any workshops or talks on setting up a garden to grow your own food please do let us know.