Derwent Pastel Shades Paint Pan Set
Posted on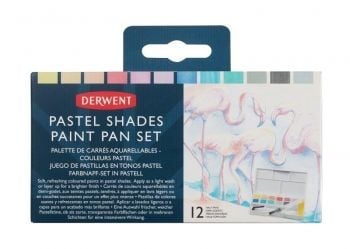 Have you seen the new Pastel Shades Paint Pan set from Derwent?

We have always loved the Derwent Watercolour pan sets, we already stock the graphitint, travel sets and metallic sets and this new pastel shades we just had to get in too.

Derwent describe this new set as "Soft refreshing coloured paints in pastel shades. Apply as a light wash or layer up for brighter finish" "Derwents uniquely formulated pastel shades paints are soft and light. They can be layered for brighter finish without dissolving previously dried layers. Alternativley these contempory light shades can be applied for a soft light wash or used with inktense and metallic sets to create dramatic effects. This compact self contained set contains 12 pastel pans a mini waterbrush, five mixing palettes and a sponge to clean your water brush"

We've seen these paints in action and have to say they are stunning, really beautiful effects can be created with this selection of colours.

You can order these via our website here or by coming to see us in store in our Seaton art shop, Devon Art Supplies, 30 Queen Street, Seaton, EX12 2RB.