Finley Fox, stamped, coloured with burlap ribbon
Posted on
Hi all!! How are we all?
This week, I fell back into my comfort zone and created a card for you using one of my favourite characters,
Finley Fox
.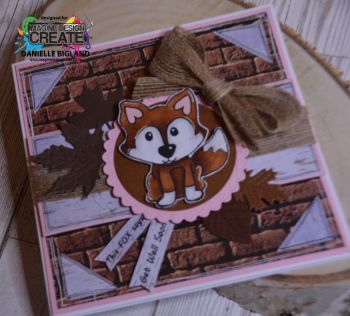 1. I started with a 6x6 card blank and cut some pink paper marginally smaller, then some brick decorative paper from my stash smaller still to create the mat and layer. It was then stuck down.
2. I then cut some pink card the width of the card and several inches thick, and a different but coordinating card stock smaller again. Before adhering, I wrapped some burlap ribbon round the front and secured at the back with double sided tape. I adhered this halfway down the card.
3. From the same decorative card, I cut 4 corners and stuck them in place.
4. I die cut a pink scallop circle, then a brown smaller circle and layered them up. I coloured and cut Finley and stuck him down on top. This was stuck down in the centre of the card.
5. I stamped 2 of the sentiments onto the same decorative card stock, cut them into flags and stuck them to 'stick out' from the circle with Finley. Almost like a rosette.
6. To finish, I cut some leaves using dies from my stash and added some borders and small details with a fineliner.
Top tip:
Being Finley is a fox, I was going for a 'natural' theme, hence the chosen decorative papers and natural embellishments. You don't need the same papers or embellishments, but try the natural theme using items from your stash and see how effective it is! Perhaps some Twine? Or some wood effect papers?
Have fun!
You might need:
Until next time,
Dani
Xx