Framed Finley Fox, stamped and coloured character
Posted on
Hi ladies and gents
I wanted to try something a little different with the Finley Fox stamps and thought I'd decorate this super cute little frame.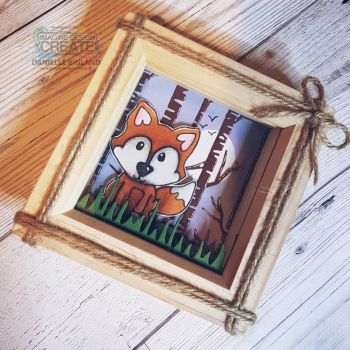 It was really straightforward.
1. I cut a piece of super smooth card the size of the frame and blended the background using Oxide inks, masking off the moon.
2. I created the forest scene with a die I had in my stash. This can easily replicated with some strips of brown card. I added white gel pen and black fineliner accents for the light and shade.
3. I then stamped, coloured and fussy cut little Finley and placed him in the foreground, I placed a strip of grass in front of him. Again, this was a die from my stash but can easily be achieved with a bit of fussy cutting.
4. I finished by adding some Twine round all edges of the frame.
Done!
Simple but effective. Don't you agree?!
Shopping list:
Until next time,
Dani
Xx