Feeling Fruity - Grid stamping technique
Posted on
Today I am going to be sharing a new technique with you called the grid method, now I didn't create this method but it's one that I really like to use in helping to create backgrounds for my cards.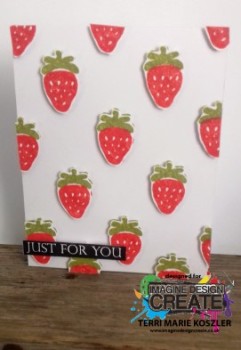 I will be using the following items today
Distress Oxide ink – Peeled Paint and Candied Apple
In order to stamp a well-balanced background I like to mark out a grid in order to be able to space my stamped images equally apart. I start by finding the centre point of my card and marking a line across the card. I then continue to add the line which are a ruler width apart. It's important to use a light pencil mark so that you can erase it later. See the picture below for details.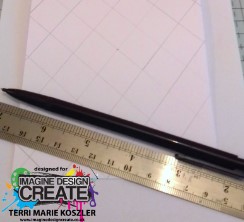 Next, I start stamping my image, I chose to leave one diamond space between each stamped image.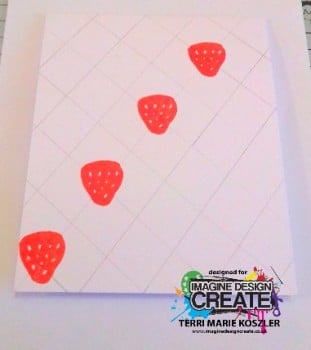 I continue stamping my images until my back ground is complete. I then make sure that my ink is completely dry before removing the pencil lines.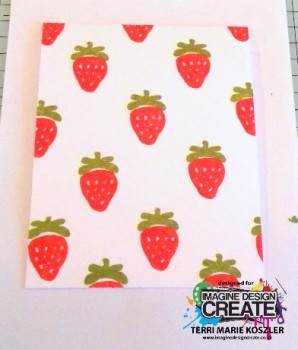 As I needed to make my pencil lines darker for them to show on camera I was unable to remove them from below the ink, so I need to choose a way to disguise them. I'm glad this happened as it allows me to talk about ways to cover those little mishaps, I really don't like to discard a project unless I really have to so always find a way to resuse or cover up.
I found two options for this project, the first was to add a vellum panel over my stamped background, this diffuses the image so that the lines are not noticeable but it also takes away the vivid colours which is what this card is all about.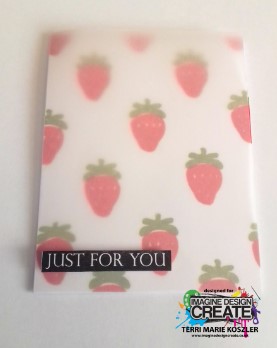 My next option was to overlay fussy cut Strawberries that had no pencil marks, I laid some out which I had clear embossed for a little shine to see what they would look like.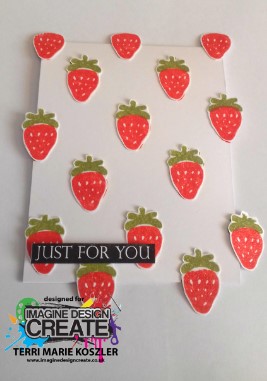 I decided that adding the fussy cut Strawberries on top would give me the best result, I add them onto some foam pads for dimension and then trimmed back any that overhung the edges of my card.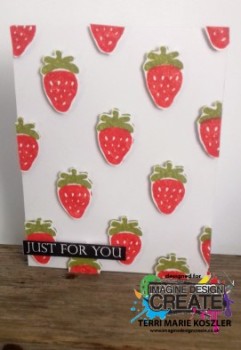 I'm really pleased with how my card turned out and love the way the Strawberries stand away from the cards, it makes you want to reach out and pick them.
I hope you'll give the grid method a go and share your results with us. Don't forget if you are shopping online with us you can use my DT code TERRI2018IDCDT to get 15% off your purchase.