Die cutting with Sparkle Medium
Posted on
Hi there, Claire with you today.
Have you ever thought about how good it would be to have super glittery (but non shed) die cut pieces?
Well with that thought in mind I went about seeing how well Imagination Crafts Sparkle medium would work with some of my favourite dies. I was impressed, and loved the results.
So for my mixed media piece I'm sharing with you today, I have incorporated them into a journal page.
Prepare with Sparkle Medium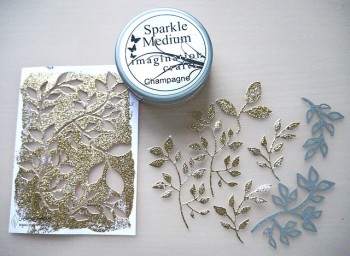 To begin, spread a thin but even later of sparkle medium on to a piece of thin cardstock. Allow to dry completely, before place dies and running through your die cutting machine. Depending on the thickness of the cardstock used, you may need to pass it through a number of times.
As you can see my dies are very delicate have cut beautifully.
Watercolour stamped focal image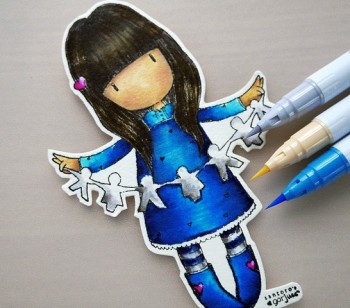 I wanted to use the sparkle medium foliage as a backdrop for a stamped figure that I have coloured with watercolour markers. You can find a lovely collection of these Gorjuss Girl stamps in the shop, along with watercolour markers too, I have added the links,
Create background on journal page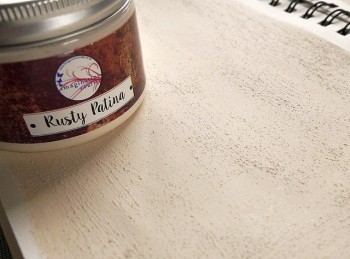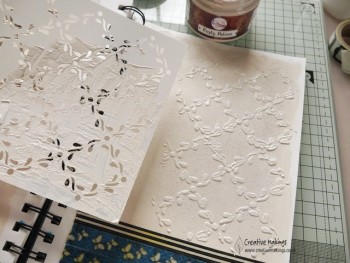 I prepared my journal page first by painting a layer of the special effect paint by Imagination Crafts called Rusty Patina, the colour is Cafe Creme. You can see in the close up photo above the fabulous texture just one coat gives. There are no tricks to achieve this, just paint on with a regular paint brush. Once dried, I used a palette knife to spread the Rusty Patina paint through a stencil, to add even more texture.
Rusty Patina, special effects paint
Finishing the page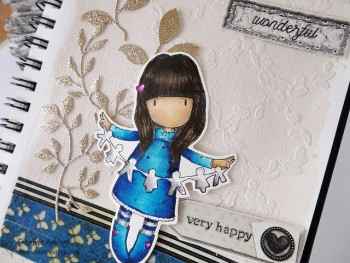 Working direct into my journal this way, means that I am cataloguing techniques and effects, and by creating a layout in the process you begin to build a visual record. This design could easily be created direct onto a card blank or a scrapbook page. I didn't feel the need to embellish the page much more than I did, I wanted the texture and the colouring to be the focus, simply using the coordinating washi tape to set the scene.
Thanks for visiting today, see you again soon.
Claire x
Journal books
http://www.imaginedesigncreate.co.uk/shoponline/prod_5818209-Planner-Journal.html
Gorjuss Girls
http://www.imaginedesigncreate.co.uk/shop/search.php?q=gorjuss+girls&searchbutton=Go%21
Watercolour Pens
http://www.imaginedesigncreate.co.uk/shoponline/cat_756984-Pens-Pencils.html
Rusty Patina paints
http://www.imaginedesigncreate.co.uk/shop/search.php?q=rusty+patina&searchbutton=Go%21
6 x 6 inch stencil
http://www.imaginedesigncreate.co.uk/shop/search.php?q=stencil&page=1