Lino Rollers - not just for lino printing
Posted on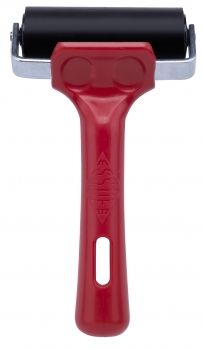 We stock a range of lino rollers in store here at Devon Art Supplies in Seaton in a selection of sizes. They are obviously great for using with lino printing activites but have so many other great uses too.

We've used lino roller in workshops to create mixed media and inky background papers, to roll over large stamps to aid in getting a full clear stamped image and also used as a roller when working with air dry clays.

They are a great multi-use tool and will last a very long time if well cared for. Remember to clean after each use, remember to dry after cleaning or leave to air dry. Never leave in water.

Our supplier says:
"Ink roller manufactured from durable polypropylene with self-lubricating nylon bearings; robust constuction; EPDM rubber; hanging slot; aluminium core and a continuous steel shaft.
These versatile inking rollers can be used for a variety of purposes other than lino printing. Simply turn the wet roller over and the handle doubles as a stand for cleaner working."