Deco Art Crafters Acrylic Paint
Posted on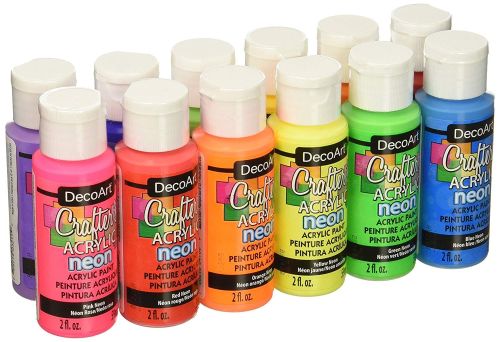 We have rececently widened the range of Deco Art Acrylic paints that we have on offer in store and online. We are pleased to say that after fantastic customer feedback we will soon be stocking the full range including the beautiful NEON colours as pictured above

Information on these paints:

Paint simple crafts and basecoat projects inexpensively with Crafter's Acrylic paints, available in 100 colors. This low-cost options is designed to brush out smoothly and evenly, covering in one or two coats. Crafter's Acrylic is versatile and can be used in general arts and crafts, stenciling, ceramics, school projects, home decorating, and decorative painting. It comes in a matte and gloss finish as well as a selection of metallics and neons.
Intermixable colors
Permanent, lightfast pigments
Soap and water clean-up
Water-based and non-toxic