Showcase your creative hobbies and talents here in Seaton
Posted on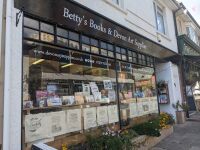 Here at Devon Art Supplies in Seaton we are regularly visited by people would like like to take up a hobby but are unsure where to start, we of course do our best to help customers but it got us thinking what more we could do to help people see what a wide range of creative things to do there are. This then lead us to consider how we could also showcase the many talented creatives in our area, those who don't nessasarily want to sell what they create but just showcase what they do, whether that be groups, tutors who run workshops or just individuals who want to show off their creative hobby.

So in January & February 2023 we will be having a showcase event!

In the centre of the shop we have a display area which we will be offering to our lovely local creatives to showcase themselves. This is not a sales opportunity and we will not be selling products here, you are welcome of course to have a poster of your contact details so people can contact you directly to purchase from you or join your clubs / workshops.

This is a FREE opportunity and welcome to all ages. We have very limited spaces available so please contact us as soon as possible if you would like to be considered for a spot. If you are a local workshop tutor and would like to showcase what you create and your workshops we welcome this.

We already have the local Seaton Scale Modellers club (Find out more about this club here: https://www.facebook.com/groups/180581865026876) booked in for January so if you are thinking of showcasing your scale modelling hobby it might be worth connecting with then to join in with their showcase.

You can contact us on [email protected] 01297 624246 or by popping in store to discuss.